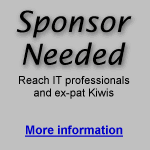 Please visit the sponsor!
A little PC time-travel
18 November 2019
Hands up anyone who remembers the Epson MX80?
Yes, this was the iconic dot-matrix printer of the early 1980s and absolutely everyone who was involved in computers, either at an industry or hobby level must surely have had or used one of these devices.
My first printer was a CItoh dot matrix job that did a reasonable job of making inky marks on fan-fold paper but had one huge drawback -- its use of a solenoid and rachet-pawl mechanism for feeding paper. If you dared to issue a form-feed command, the printer would honestly sound like a machine gun as the solenoid and mechanics rattled into action to advance the paper by up to 66 lines in just a few short seconds.
By comparison, the MX80 was a silent dream of a printer.
Whilst its quality was "acceptable" but nothing to write home about, the fact that the Epson printer was so quiet and could also take standard A4 sheets of paper (instead of just fan-fold perferated computer paper) made it a much better solution for most printing tasks.
So what has prompted this little nostalgia trip?
Forums are up!
Yes, people have been complaining about the lack of forums for months now so I finally got off my chuff and finished the transition to the new server and the commissioning of the new forums.
Unfortunately you will have to re-register, it just wasn't practical to transition the IDs from the old server -- although
the old stuff
will be maintained in a "read-only" capacity for some time to come.
So, if you want to "have your say" then register at the new forums using the magic word Aardvarkroxs when asked for it.
Take a moment to introduce yourself to the rest of the Aardvark community and pretty shortly I'll be expanding the number of forums to encompass a number of areas that are regularly discussed on this site.
The contact form is not yet working (got to rejig the CGI scripts) but if anyone wants to email me they can send their communications to editor at this domain or PM me via the forums.
Oh yes, if anyone wants a bit of a plug then the sponsorship space is now up for grabs. Until someone is prepared to offer a donation for the use of this space, I'm happy to offer a free plug to anyone who wants to send me a suitable 150x150 graphic and link.
Stay tuned!
Sorry, the headlines haven't been updated today
Have your say in the Aardvark Forums.
Recoverable Proxy
Would
this system
help improve the nation's democracy and introduce some much-needed accountability within parliament? Spread the word!
---