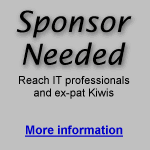 Please visit the sponsor!
The South Waikato Mayor goes green (kind of)
23 January 2020
Oh the irony...
South Waikato District Mayor Jenny Shattock has gone green. Okay, not a deep green, more of a kind of slight greenish tinge.
She has chosen to update her car (provided as part of the remuneration package) to a fancy new Camry hybrid, so as to be more environmentally friendly and do her bit towards saving the planet from the menace of climate change.
Well that was the implication of a piece in the local paper this week.
Interestingly enough, Ms Shattock once again showed that she really doesn't have much in the way of even basic research skills because she told the paper that a BEV (Battery Electric Vehicle) wasn't practical for her.
"If I need to go to whakatane for example, the Whakatane District Council is in our zone, I couldn't guarantee I could get there on full electric."
In the wake of such ignorance I can see why this district continues to languish despite all the untapped potential just waiting to be realised.
Forums are up!
Yes, people have been complaining about the lack of forums for months now so I finally got off my chuff and finished the transition to the new server and the commissioning of the new forums.
Unfortunately you will have to re-register, it just wasn't practical to transition the IDs from the old server -- although
the old stuff
will be maintained in a "read-only" capacity for some time to come.
So, if you want to "have your say" then register at the new forums using the magic word Aardvarkroxs when asked for it.
Take a moment to introduce yourself to the rest of the Aardvark community and pretty shortly I'll be expanding the number of forums to encompass a number of areas that are regularly discussed on this site.
The contact form is not yet working (got to rejig the CGI scripts) but if anyone wants to email me they can send their communications to editor at this domain or PM me via the forums.
Oh yes, if anyone wants a bit of a plug then the sponsorship space is now up for grabs. Until someone is prepared to offer a donation for the use of this space, I'm happy to offer a free plug to anyone who wants to send me a suitable 150x150 graphic and link.
Stay tuned!
Sorry, the headlines haven't been updated today
Have your say in the Aardvark Forums.
Recoverable Proxy
Would
this system
help improve the nation's democracy and introduce some much-needed accountability within parliament? Spread the word!
---