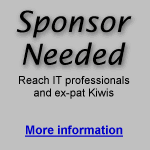 Please visit the sponsor!
The US recording industry is stealing from ME!
21 February 2012
The recording industry is whining long and hard about how piracy and file-sharing is crippling them.
They're losing billions of dollars every year because people keep "stealing" their intellectual property -- or so they tell us.
As a result, they've convinced various governments around the world to act like a bunch of thugs and introduce incredible penalties for the most modest of crimes.
Well it's about time the recording industry pulled its head in because they're trying to "steal" my intellectual property (and that of thousands of others) and by doing so, they're depriving *me* of revenues.
What a bunch of hypocrites and crooks they've turned out to be!
Here is my own recent experience...
I have been uploading plenty of new videos to my YouTube channels and I'm very careful to ensure that I don't violate anyone's copyright when I do so.
My vids are 100% my own so I should have nothing to fear when I up load them to YouTube -- or so you'd think.
Unfortunately, since YT are now bending over backwards to placate the movie and music industries, the company now taken a step too far.
On three occasions now, I have received emails from YouTube advising me that a content/copyright claim has been made against one of my videos. These claims allege that I have used someone else's content without permission and therefore, the claimant will get any revenues that might arise from advertising that appears on those videos.
How on earth can that happen -- when the videos in question contain no third-party footage, no third party images and no music at all?
Well it's all down to YouTube's automated content-matching system.
In order to catch as many "offenders" as possible, YouTube has obviously significantly loosened the pattern-matching it uses to detect copyrighted material in uploaded videos -- to the extent that it's false-triggering on something as unmelodious as my voice in a "talking head to camera" video.
The last notification of an alleged infringement I received last night didn't even offer a hint as to what music the system thought it had matched. It simply indicated that it contained something which infringed copyright (which it didn't -- here is the video concerned).
Apparently, the content matches some nebulous definition of "music" so the ad revenues will be redirected to a fund that is simply given to some body within the music industry that represents all signed artists.
WTF????
I know the sound of jet engines is music to some people's ears -- but I don't think the recording industry has any right to lay claim to anything in this video -- do you?
Note that this video has been online since October 2008, some three years and four months -- but only triggered the content-match system this week. Clearly, they're really getting vague with their pattern matching now!
Also, if the dull monotone voice you'll find on my RCModelReviews channel now qualifies as "music" (as they've claimed it does) then there can be little hope for that industry -- or maybe I have missed my calling and Sony or EMI should sign me up right away as their newest rapper!
It's pretty obvious that with the absolutely ludicrous way the recording industry has hired the US government to become its mobsters and engage in very shady activities to try and sustain their broken business model, even Google (in the form of YouTube) are shirt-scared that they'll run foul of those "goons with tunes".
In fact, it's got so bad now that if someone like myself doesn't constantly keep an eagle-eye on who is unlawfully claiming the rights to their own intellectual property, they may well end up stealing my money -- by way of fraudulently collecting revenues that do not belong to them.
Surely this is a undeniable case of fraud -- be it automated or not. How can he music industry do this to independent content producers when they themselves keep bitching about how much they're losing to "theft" of their intellectual property?
Other YouTube partners have encountered the same problems recently.
Why is it okay for the recording industry to steal my content but it's not okay for me to steal theirs?
Come on -- I really want an answer to this! Are you listening RIAA -- or are you too busy counting your ill-gotten gains and figuring out whose doors you'll break down tomorrow and whose assets you'll seize as a way of propping up your rapidly decaying business model?
And as a footnote -- it seems that now the music companies are taking pot-shots at each other...
Those who purchase the Sony Vegas video editing software also receive a bundle of "royalty-free" music files which they are entitled to use in their videos without any further payment.
Recently, RumbleFish has been flagging YouTube videos using these tracks as containing copyrighted material belonging to them.
This discussion on the YouTube partner support forums makes interesting reading.
It really does seem that copyright and its enforcement is in need of a major overhaul -- don't you think?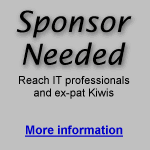 Please visit the sponsor!
Oh, and don't forget today's sci/tech news headlines
---